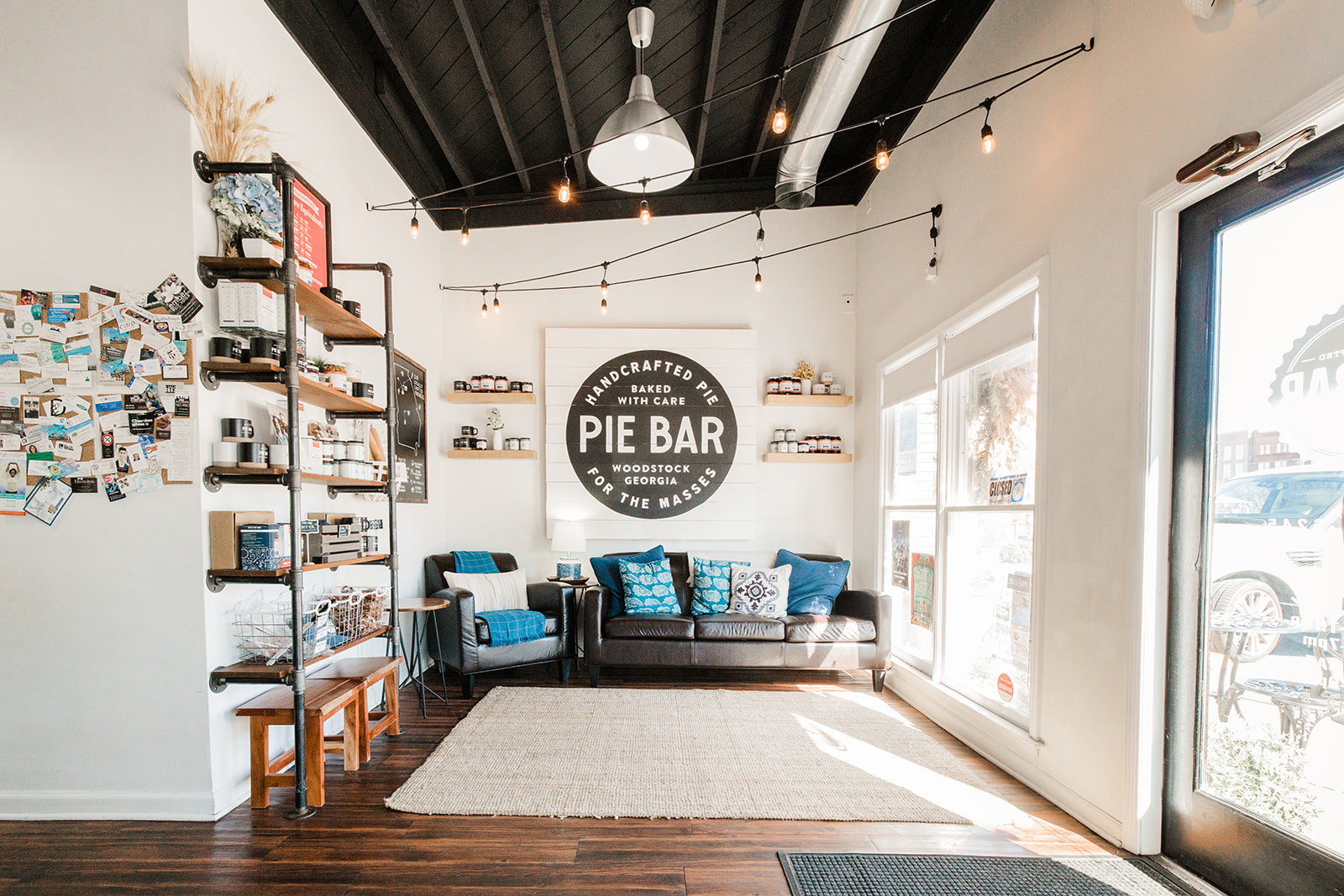 What is Pie Bar?
Pie Bar is a retail pie shop started by me (Lauren) and my husband, Cody, in 2015. We were working normal jobs when we decided to quit and bake pies for a living!
Since that day in 2015, the Pie Bar Community has grown and now includes Pie Bar Woodstock, Pie Bar Marietta, Pie Bar Commissary, and our Made-for-You line of Pie Gifts, Pie Provisions. 
We bake 8 flavors of pie each day including our best selling Apple Streusel Pie, Bourbon Chocolate Pecan Pie, and Peanut Butter Cream Pie.
Guests can join us in Downtown Woodstock or The Marietta Square 7 days a week for a slice of pie, a whole pie, or even just a cup of coffee!
Pie Bar has been featured in and contributed recipes to Taste of the South, Atlanta Magazine, Draper James, The Atlanta Journal Constitution, and The Cooking Channel.
Word on the Street about Pie Bar's
Super Flaky Pie Crust
"My first ever and only baking class at Cooks Warehouse was with Lauren! Thank you for taking the step forward to share your delicious crust and pies! Best crust by far HANDS DOWN!"
- Angie
"The crust is even better than my granny used to make (sorry Granny!)" 
- Kristie
"Best crust ever eaten in my whole entire life and I'm an older woman with a young heart."
- Nancy
"I don't like pie crust. I could eat this pie crust every day of my life!"
- Van Jason

"The crust was buttery, flaky and just what I remember from home!!"
- Zachery
"The crust was literally the highlight! It was so flaky!"
- Malia
"Thank you for the pie classes. They helped my daughter gain more confidence in herself. She was so happy with the class."
- Sandra
Take a Peek at the Course Line Up!
P.S. Each Section has audio, video, and written instructions!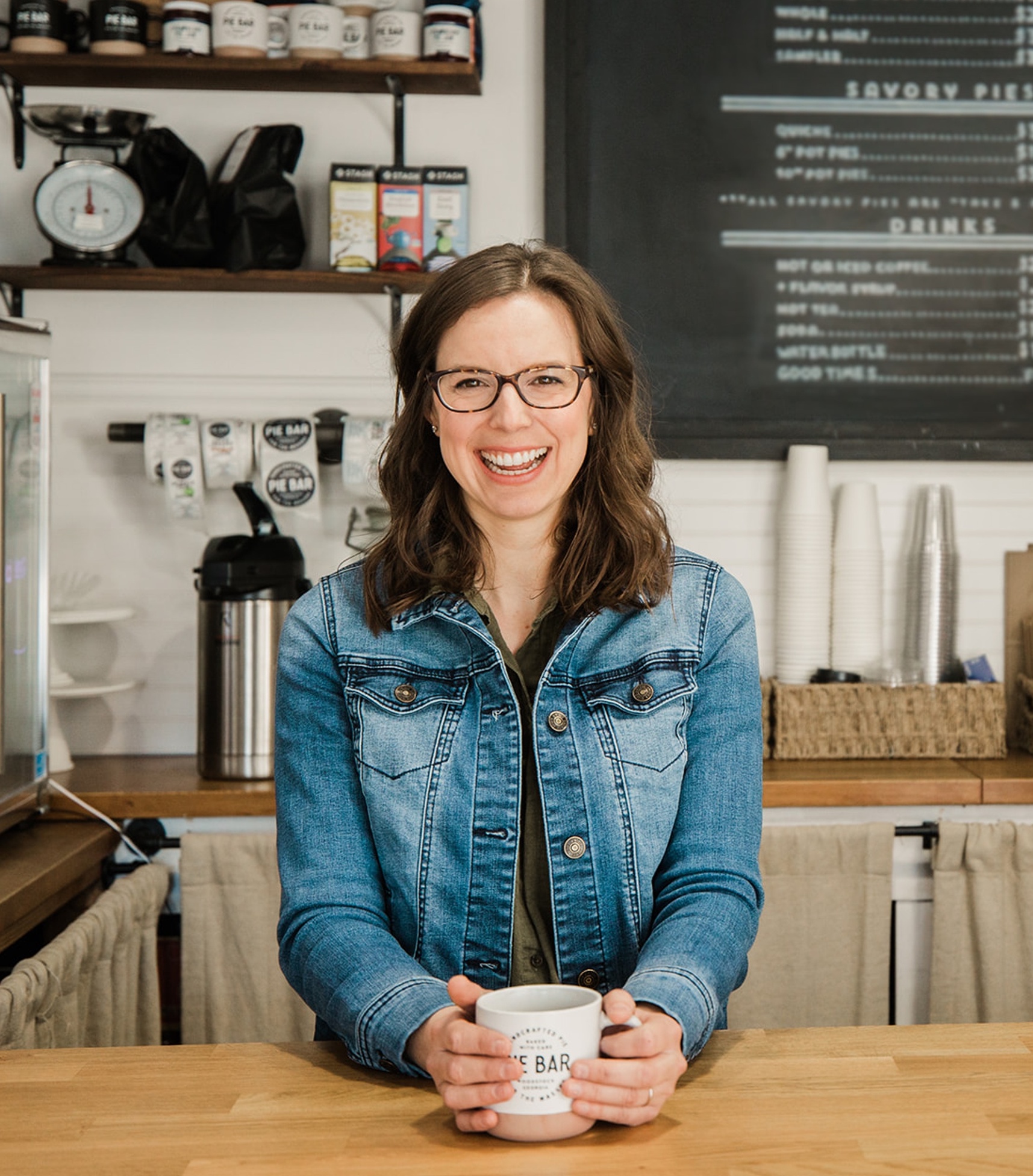 From baking a pie or two at home to baking thousands of pies in a commercial kitchen, I have seen the good, the bad, and cried into more overworked pie dough than I would like to admit.
I started Pie Bar in 2015, after I decided to leave my "normal" job in state government. I began baking pies for farmer's markets and events all while developing recipes and working to perfect the pie crust.
Since then we have opened three locations and launched a retail line called, Pie Provisions.
Through Pie Provisions we've had the opportunity to teach pie baking classes across the United States, on television, online, and in private classes.
Now, I am combining it all into 5 simple steps so you can make Pie Bar's Super Flaky Pie Crust any time you desire.
Thank you for trusting me to teach you. I cannot wait to get started!
Happy Baking!
Lauren
P.S. I love talking pie so much, that once you register for the class I will reach out so you can contact me directly with any pie questions you may have!
Baking can reduce stress, give you a creative outlet, and even create a space for you to spend time with those you love.
The 5 Steps to Flaky Pie Crust Course provides you the chance to spend more time doing what you love..BAKING!
Throughout this Pie Crust course you will:
Learn the

technique

behind making a Flaky Pie Crust.
Understand the "

Why

" behind each technique.
Get your hands in the flour and

do the dang thing!